WHERE TO PLAN A LUXURY LAKE COMO WEDDING
All you need for your Luxury Destination Lake Como Wedding is here
Lake Como is a synonym of Luxury and Elegance in the Wedding industry.
This is one of the reasons why many celebrities have chosen to get married on the shores of the lake. Let's mention for example Chrissy Teigen and John Legend in September 2013 at Villa Pizzo, Emily Blunt and John Krasinski in July 2010.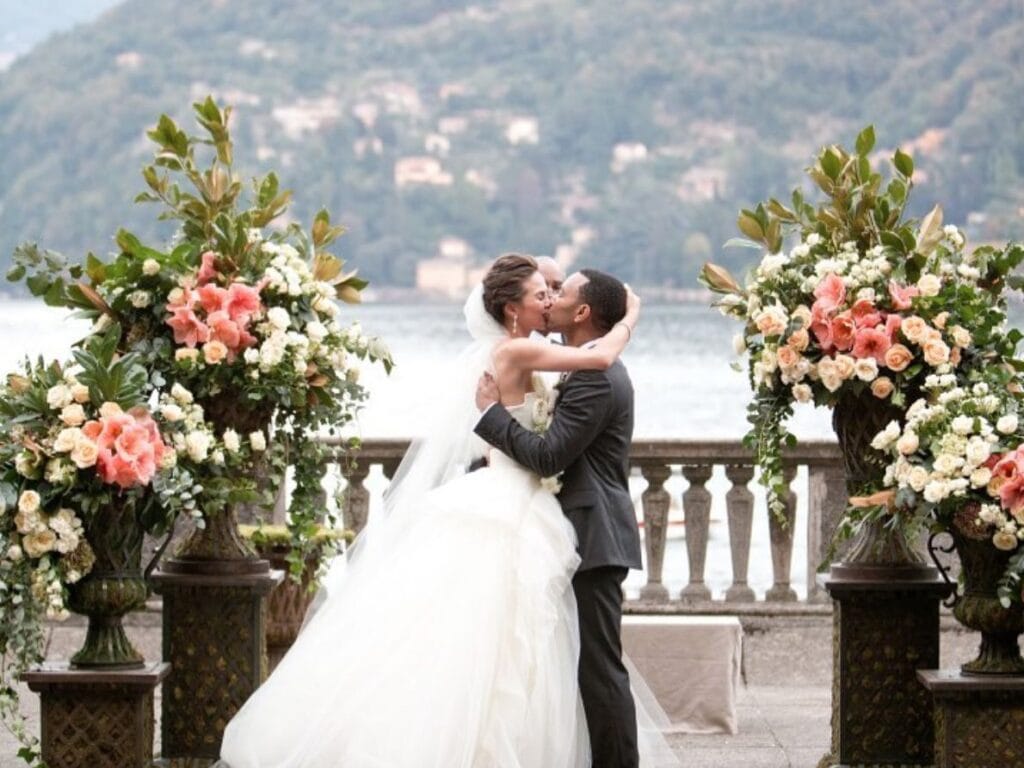 The region of Lake Como is located in Northern Italy, close to Milan and the Swiss border. This elegant location stands out thanks to its wonderful landscapes, the proximity to the Italian-Swiss Alps and the many Luxurious Villas that can be found in the little rural cities around the lake.
HOW TO REACH LAKE COMO?
It is easily accessible thanks to its proximity to Malpensa International Airport. Most of the stunning locations can be reached in 1 hour drive from the Airport. At Terminal 1 many car rentel companies are available but you can easily book your car in advance via website.
LAKE COMO DESTINATION WEDDING VENUES
Villa del Balbianello
Villa Pizzo
Villa Regina Teodolinda
Villa Balbiano
Villa Parravicini Revel
Villa Sola Cabiati
Villa Monastero Pax
Villa d'Este
Let's have a look at all these beauties
1. VILLA DEL BALBIANELLO
This location is probably the most luxurious wedding venues in Lake Como. It's protected by FAI, Fondo Ambiente Italiano, the National Trust of Italy. Villa del Balbianello is located in the comune of Lenno on the western shore of the south-west branch of Lake Como.
It became worlwide known thanks to Star Wars: Episode II Attack of the Clones.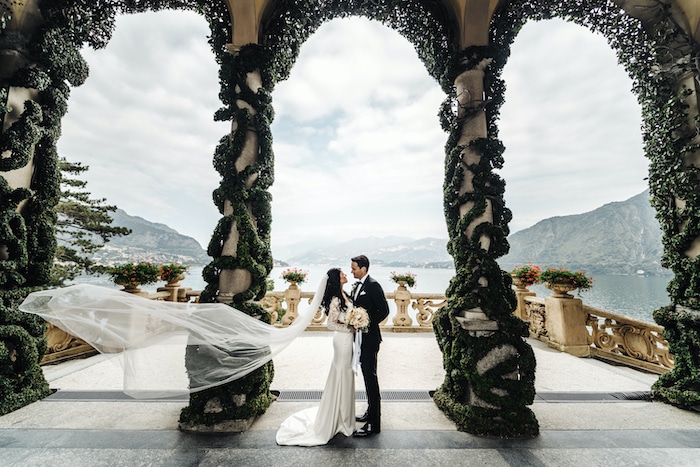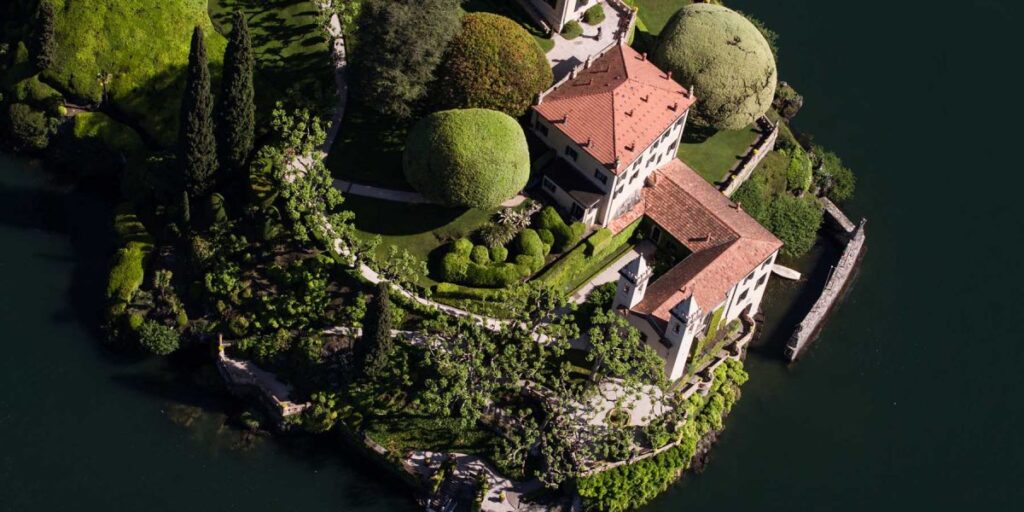 Villa del Balbianello offers four spaces for your wedding (Loggia Durini, Terrazza a Lago, Loggia Segrè, Terrazzo Canfora) which can hold up to 150 guests. The first two locations are the biggest and the most popular.
The Villa can be used for official cerimony. Villa Balbianello is also accesible by boat from the lake, giving you the possibility to make an incredible cerimony entry and also providing you an exclusive photo shoot experience.
In terms of budget and costs, prepared to spend at least 10.000€ for a 6-hours period of rental. Also take it consideration that being administred by a National Trust, the planning process can be a little bit longer.
2. VILLA PIZZO
Another beautiful wedding venues on Lake Como, placed in the comune of Cernobbio. Villa Pizzo is well known for its quality and elegance. It offers the longest lakeside garden in Lake Como.
The Villa has a private marina co it can be reached by boat.
It is possibile to use the location for your wedding cerimony.
Villa Pizzo can hold up to 200 guests.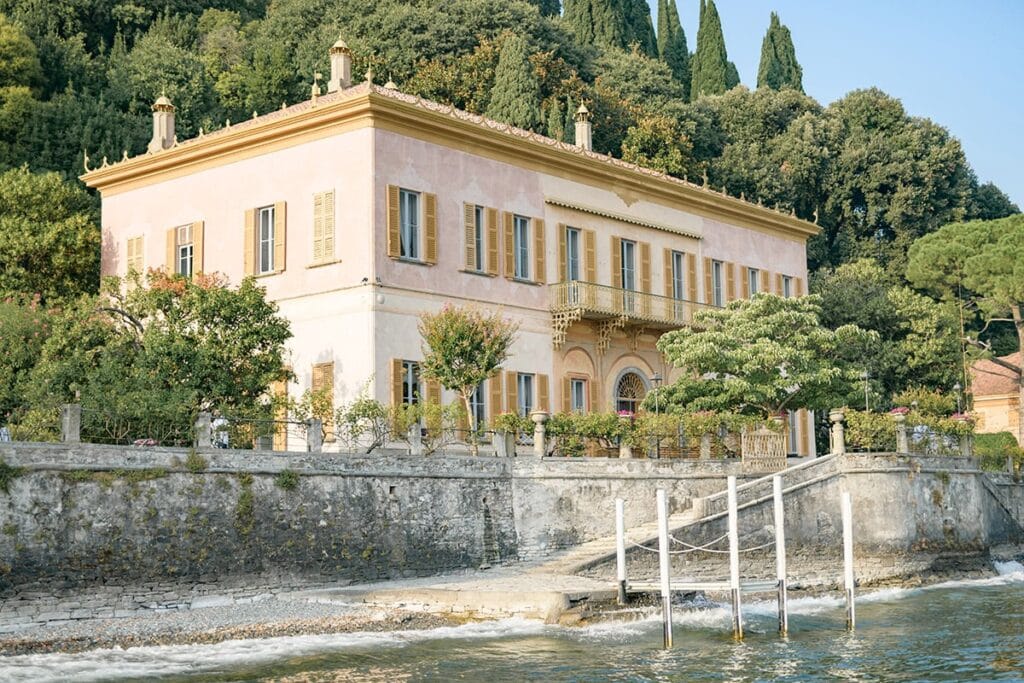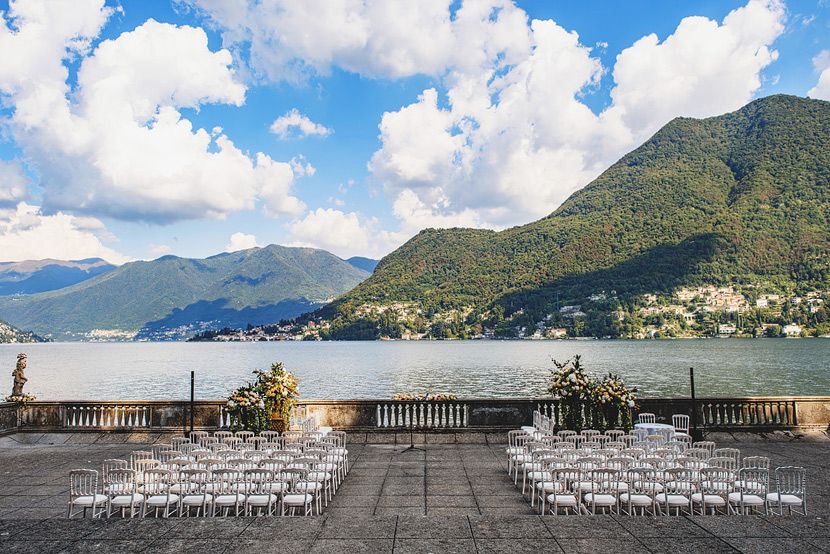 3. VILLA REGINA TEODOLINDA
Wonderful location in Laglio, close to George Clooney's Villa and frequently visited by VIPs. Villa Regina Teodolinda is a unique location with a retro-style, amazing Lake view, comfortable spaces and tasty tipycal Italian food.
The name of the Villa comes from the Italy's Queen Teodolinda, who lived in this dream place from 589 to 616. It is definitely a location filled of ancient history!
Accordig to their listing page, the price starts from 150/200€ per person. Villa Regina Teodolinda has 6 suites for a total of up to 24 people staying. It is also possibile to use this location for a simbolic cerimony.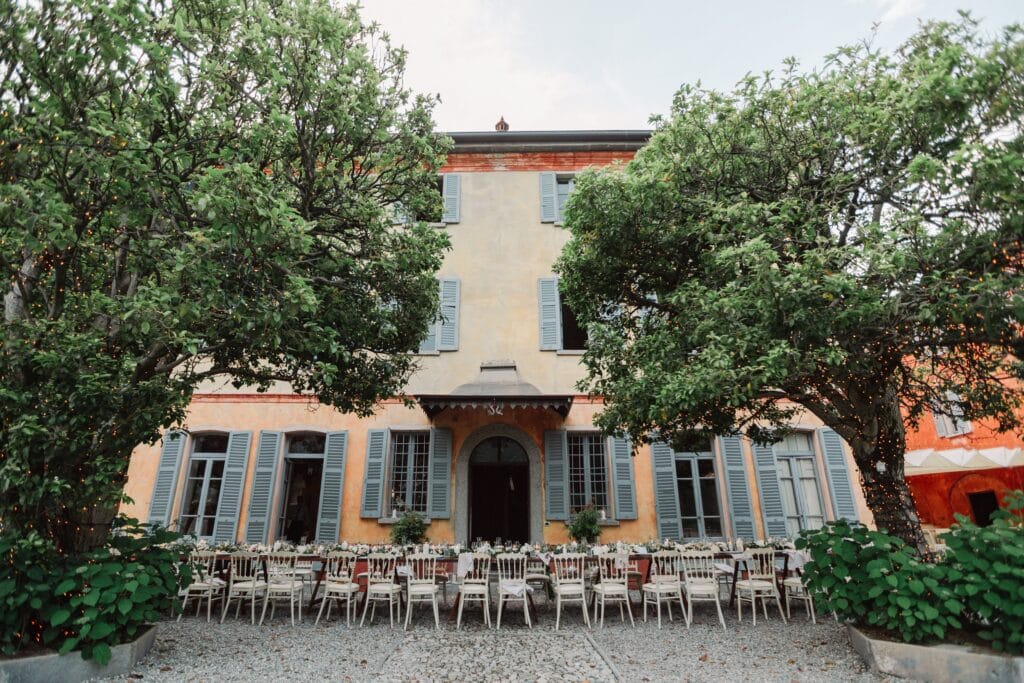 4. VILLA BALBIANO
Incredible location on the western shore of Lake Como, in the small town of Ossuccio, Villa Balbiano is simply beautiful! It's a 16th century villa recently restored, with 6 bedrooms suites, indoor and outdoor swimming pools, lovely & curated gardens and an incredible view over the Lake that can host up to 100 guests.
It is possible to host here a wonderful symbolic ceremony and it has a private marina, extending your luxury possibilities!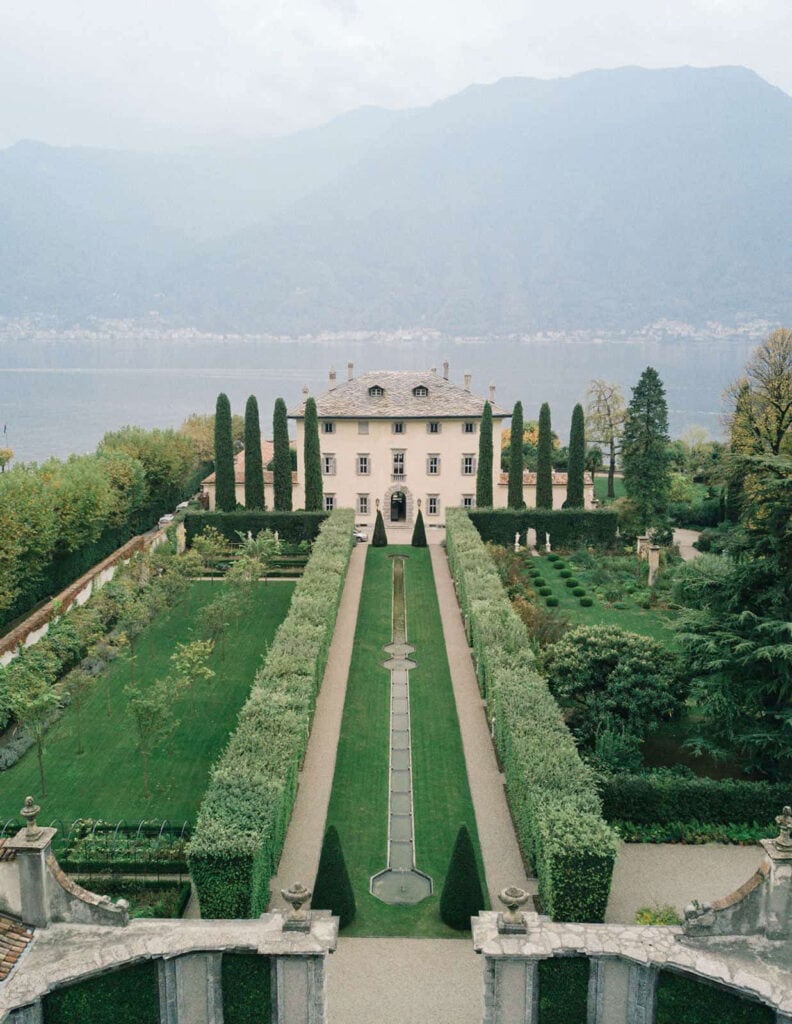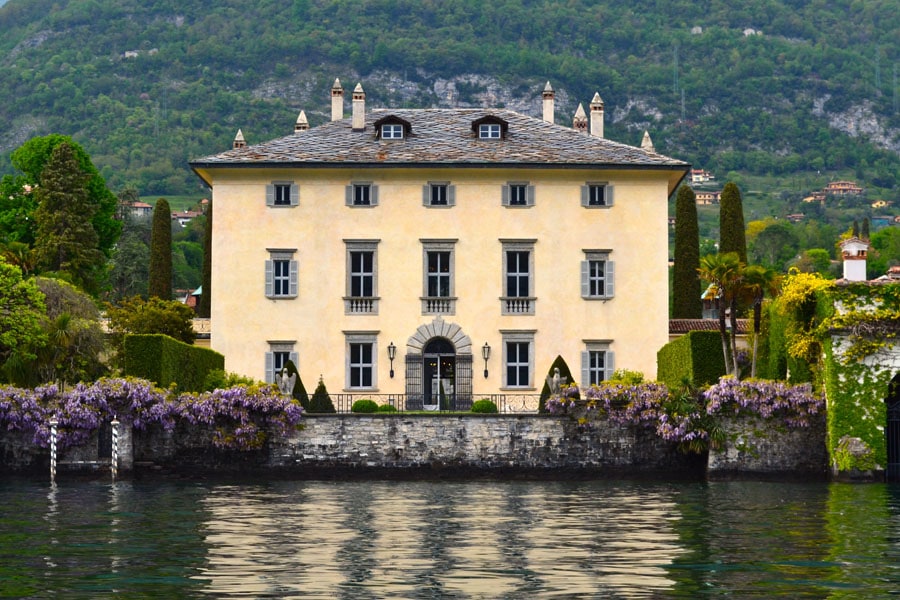 5. VILLA PARRAVICINI REVEL
Villa Parravicini Revel is a suggestive and aristocratic villa on Lake Como that combines the charm of the past with contemporary glam. It is located directly in the main city of Como, so it's quite easy to reach.
It has 4 main internal spaces: Sala delle Colonne, Sala Rosa, Sala Gialla and Sala Verde. The latter has the biggest space avaiable and it can host up to 140 guests.
The villa has a private marina so it can be reached from the Lake too. It has no available rooms for guests and the average rental price is €4000-5000 per day.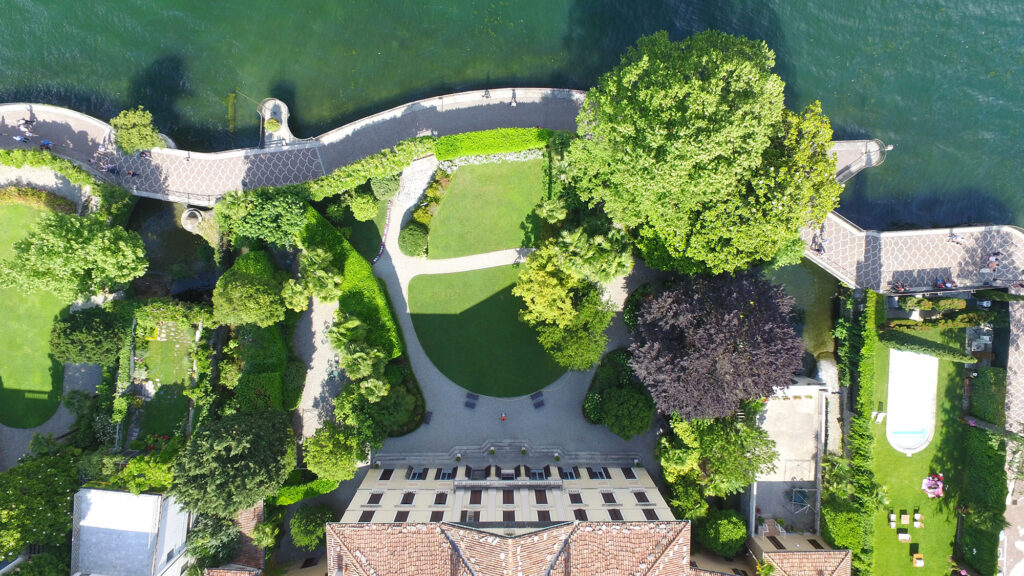 6. VILLA SOLA CABIATI
Elegant-classic Villa placed in the comune of Tremezzo, Villa Sola Cabati enhances the beauty of the Belle Époque. Its flowering Italian garden and the stunning outdoor pool will give to your wedding a truly elegant touch. Villa Sola Cabiati has 6 unique suites allowing you to host up to 12 guests overnight. It has 4 main spaces for weddingsw ith full dedicated staff, including Villa Manager, butler and chamber maid at your disposal throughout your stay. The rental price starts from €10.000 per day.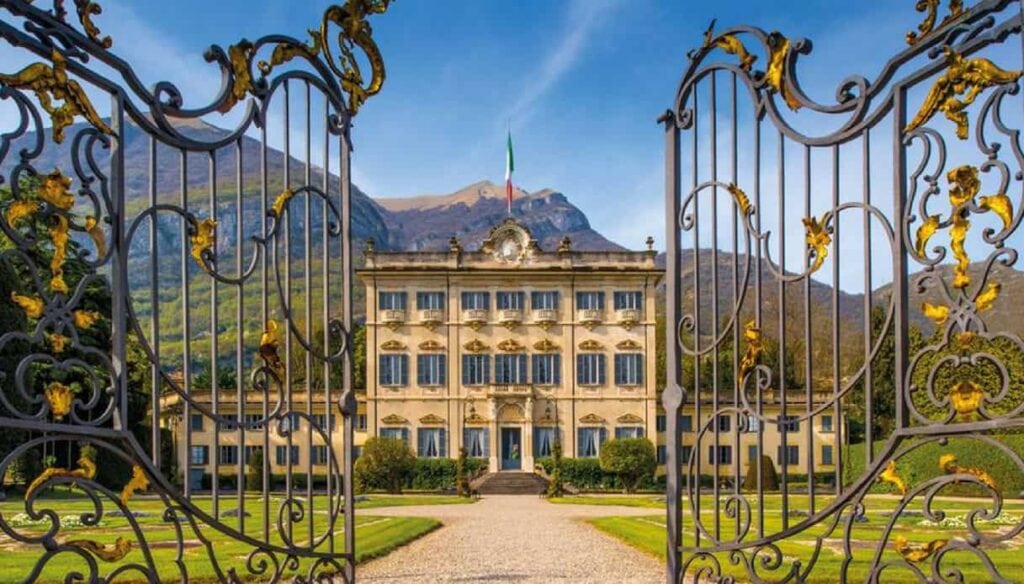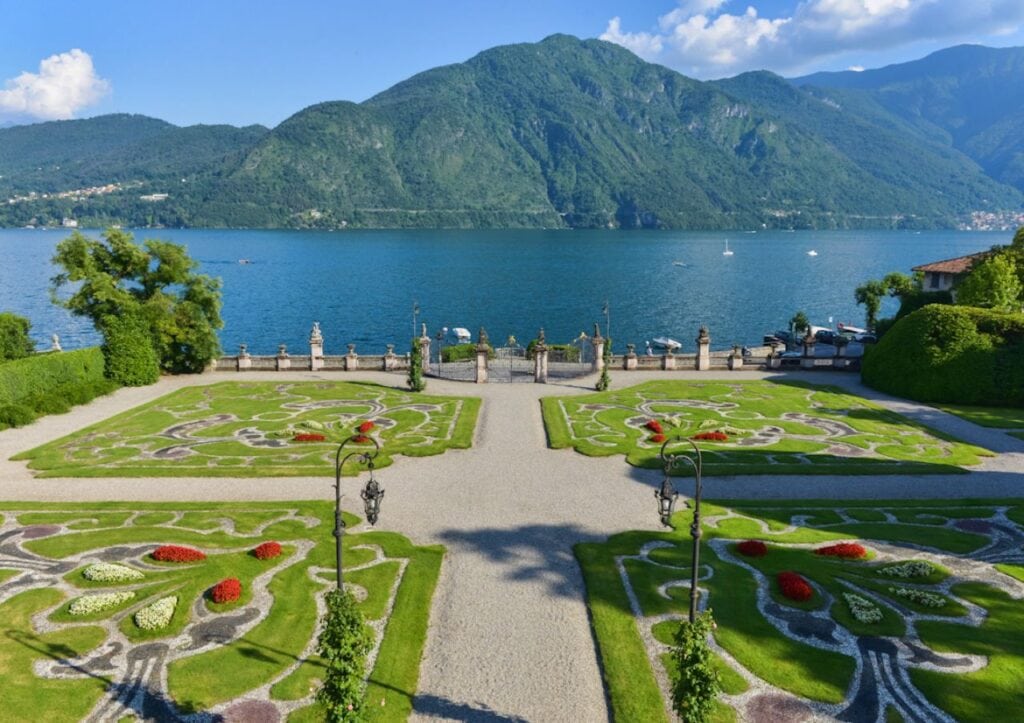 7. VILLA MONASTERO PAX
Three letters: "Pax", written with white stones, telling you "Peace".
This is how Villa Monaster Pax welcomes you, an ancient dimension where time has stopped, where nothing has changed. Situated in Lenno, Villa Monastero Pax hosts luxury weddings from 20 to maximum 220 guests at 120€ minumum price per person. It has an elegant tensile structure which can provide a huge covered space to keep all your guests in the same shared place.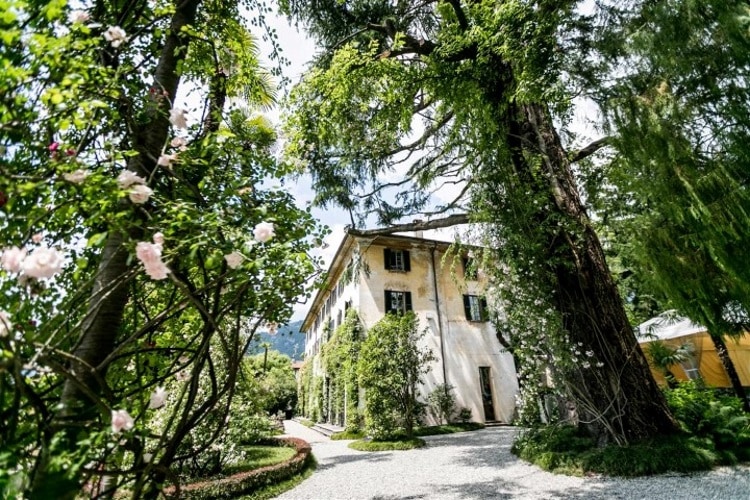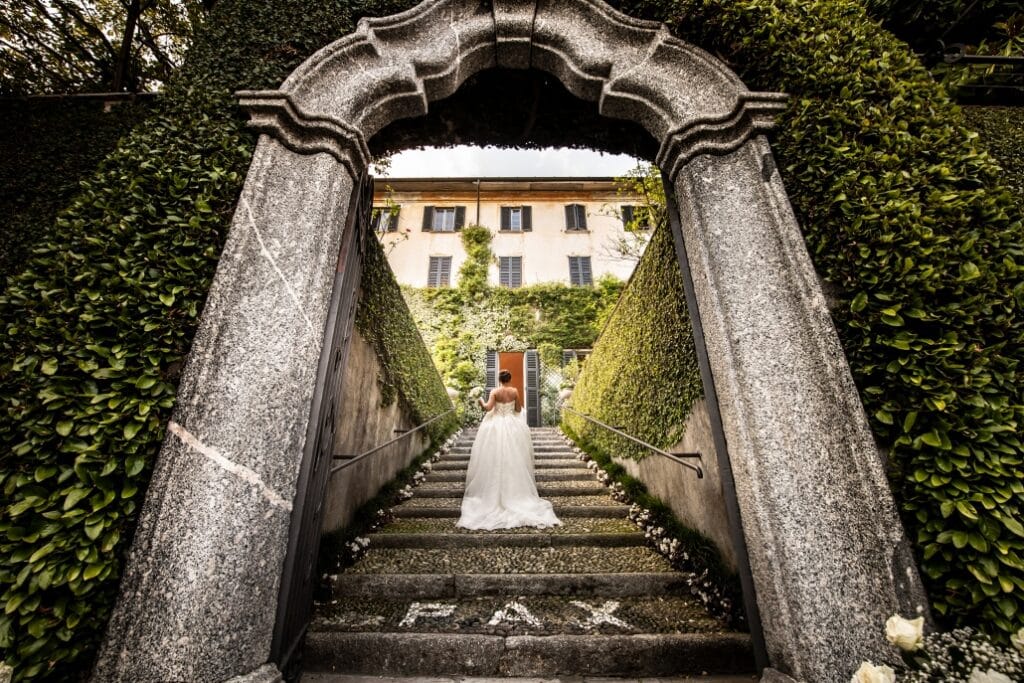 8. VILLA D'ESTE
And finally Villa D'Este, an exclusive 5-stars luxury hotel in Cernobbio (CO), that has been for centuries residence of the Italian aristocracy. It has a unique lake view with a stunning outdoor swimming pool right inside the lake. The villa is immersed in a 10-hectare park with centenary plants.
Villa d'Este can accommodate over 300 people in its 4 private villas and 152 rooms and suites. The symbolic ceremony can be held in the Garden of Mosaics. The avarege price is around 250€ per person.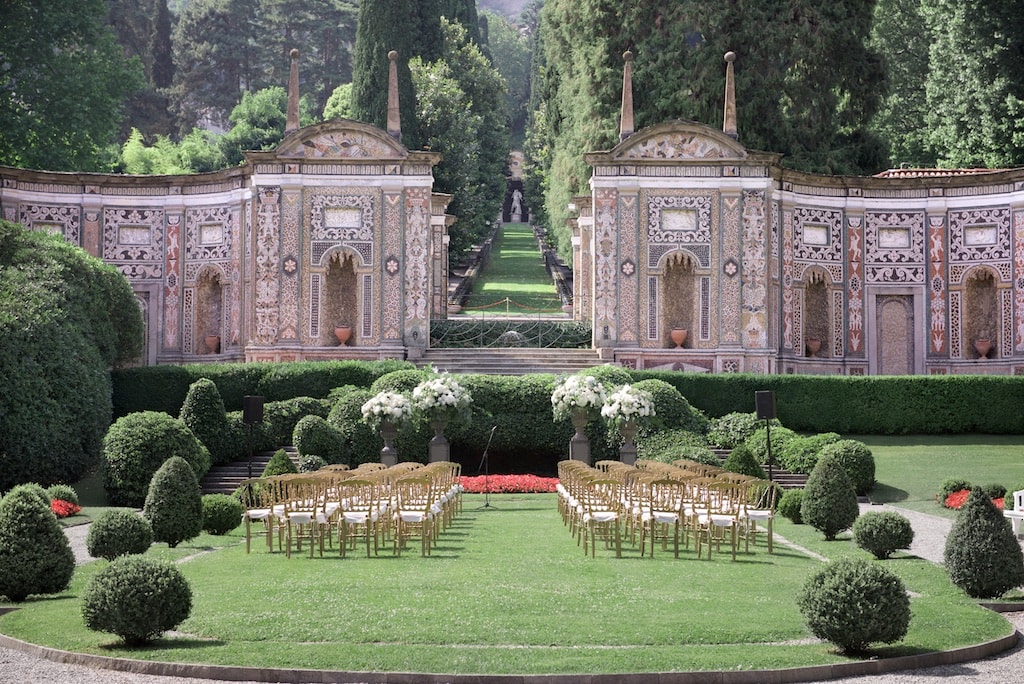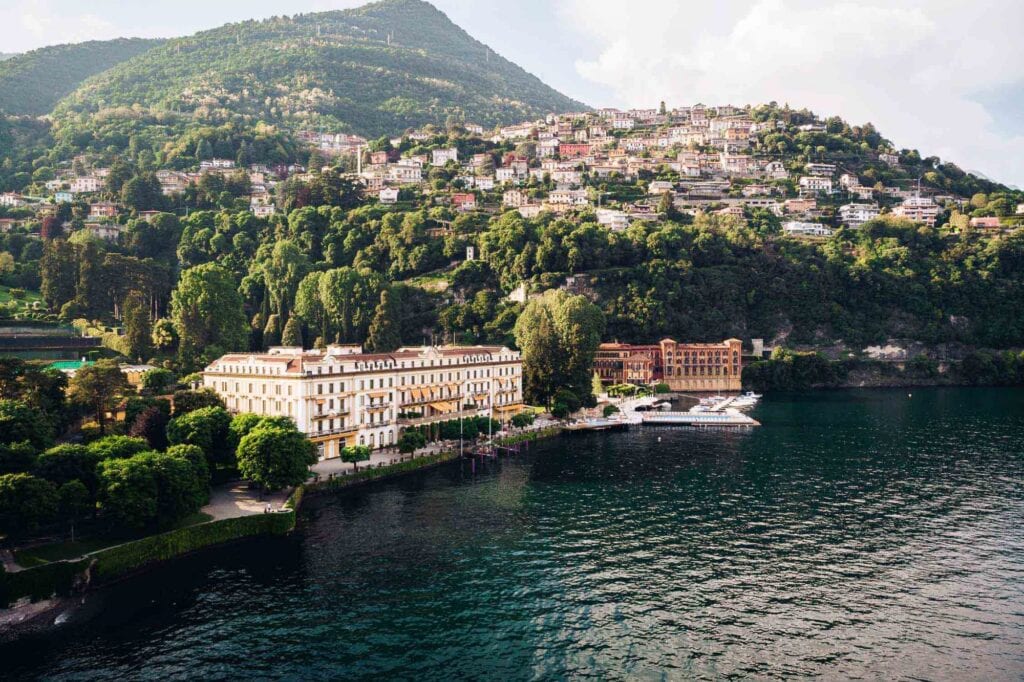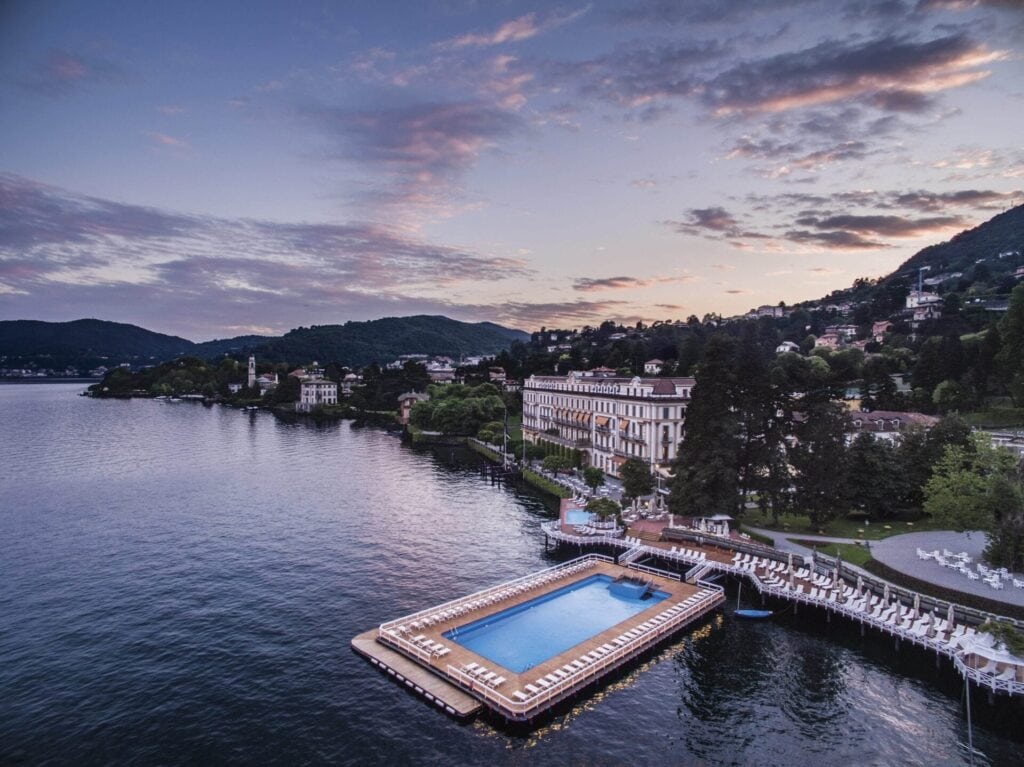 BEST PHOTOSHOOT LOCATIONS in a Lake Como Wedding – A Photographer's point of view
The starting point for your Wedding Photoshoot is definitely your wedding venue. All the above mentioned venues have unique solutions for a creative and suggestive photoshoot in their well-curated gardens & balconies. Take advantage of the proper beauty of your location, the building itself and its geometry, the view over the lake, etc..
Spending many grands for such locations and don't fully take advantage of them for your photoshoot it's a pity! Moreover using directly your wedding venues for your photoshoot will allow you to don't waste time moving to far locations and optimizing in this way your wedding day schedule.
Another great and unique idea is to rent a fancy boat, enjoy a ride in the Lake and take advantage of this experience for your photoshoot. This is absolutely a must being in Lake Como. Be prepared to stunning landscapes pictures, enjoying a romantic, relaxed and intimate atmosphere. A little more expensive than using just your location, but you won't regret it!
Talking about Lake Como Wedding, people also ask …
LAKE COMO FAQ
How much does it cost to have a wedding in Lake Como?

On average the daily rental cost for the best wedding locations is about €5000 (or more). In addition you'll to book most of the time caterings, florists, photographer and videographer, etc.. So the cost can really skyrocket. This is why Lake Como is one of the most expensive wedding locations in Europe. Have a look at this guide for more informations.

Can you get married at Lake Como?

Of course you can. Lake Como is one the best location all over the world for a stunning Luxury Wedding.

What is so special about Lake Como?

Its history, the magic views over the lake, the tasty italian food and its elegant wedding location. This is why many movie stars have choosen to get married in Lake Como.

What should you not miss at Lake Como?

Villa del Balbianello is a must, also consider visiting Isola Comacina, or rent a car and drive through the old street crossing all the old-style/vintage little towns across the Lake.

Who got married at Lake Como?

Two very known weddings has been Chrissy Teigen and John Legend in September 2013 at Villa Pizzo and Emily Blunt with John Krasinski in July 2010.